Now that you have decided to book your True Beauty Boudoir session with us we have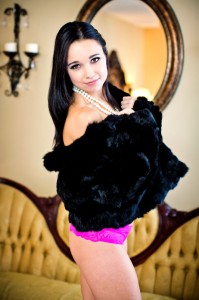 some thoughts to help you make your session an amazing experience.
Wardrobe: Corsets, garters, Bustiers, baby dolls, sexy lingerie sets, pearls and heels are always popular.  A must is a lacy matching bra and panty set. Also consider his dress shirt and tie, a sports jersey or a uniform top that your boyfriend or husband wears. If your feeling adventurous look for something scandalous at Fredrick's or a local lingerie shop. We suggest that you bring a ton of outfits and we will help you pick out something that will make you look stunning. Dont have that kind of budget? Get the lingerie and leave the tags on. At the shoot you can take the tags off what you use and return what you dont. Easy!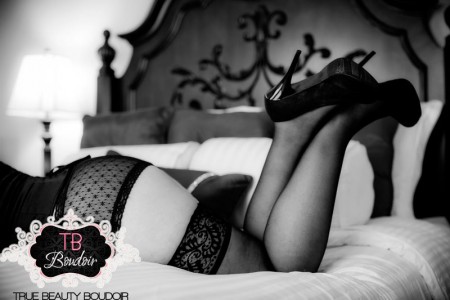 Fishnets or Stockings: These are a classic addition to pin-up photos and they always look sexy!  Thigh highs are sassy, and nude sheer-to-waist panty hose are great for camouflaging cellulite.  A word of wisdom:  a run is practically inevitable, so bring 2 pairs. You can always return one if we dont use them.
Shoes: Bring what you like, especially those sexy high heels, but wear flip flops to  your shoot. This will keep the dreaded "sock marks" at bay! Remember that  anything tall and strappy is sexy! Stay away from "clunky" heals as they  tend to visually shorten legs.
Accessories: Nothing says more about you than the accessories you wear. Bring anything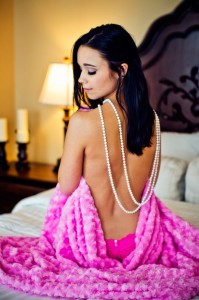 and everything you think you might want to wear and we can work with you on picking things that will make your images perfect. We have some items to play with as well like long strands of pearls and a blingy rhinestone choker and bracelet set.
Glasses: If you normally wear them then bring them. We might do some shots without them but it will be your choice. Sunglasses can be a fun accessory as well.
Music: Bring your Ipod. Make a playlist to listen to during  your shoot. It will calm you down, make you feel more comfortable and you will see that in your finished photos!  If you dont have one or forget yours we have a LONG playlist of music that most women like. We always have Pandora that we can find any genre of music.
More to come…